Custom Joinery for a Devon Ice Cream Kiosk!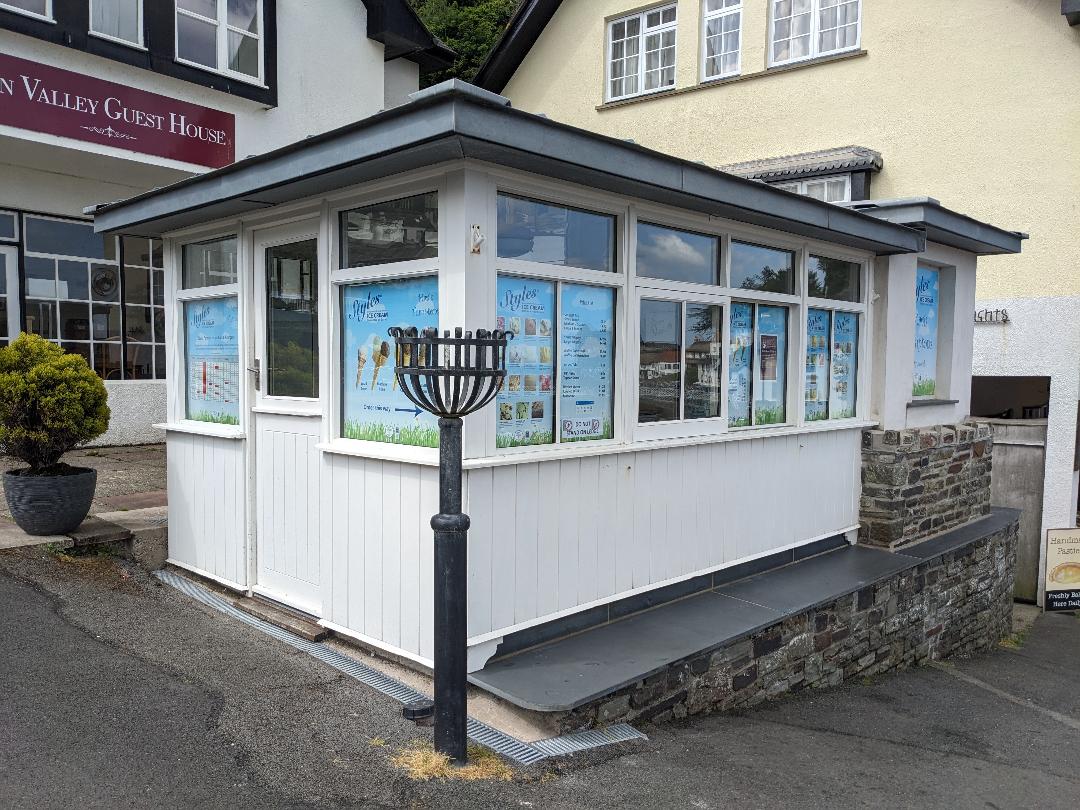 When it comes to creating custom joinery projects, our team has always been up for a challenge. Over the years in our, we have crafted an array of stunning pieces in our joinery workshop, but one recent project truly stood out: an Ice Cream Kiosk! Combining creative thinking, functionality, and a touch of nostalgia, we delivered a quality outcombe that delighted both the client and ice cream enthusiasts alike. Let's delve into the details of unique project and showcase the possibilities of custom joinery in Devon.
Preserving Safety and Charm: One of the primary concerns with an Ice Cream Kiosk is ensuring a safe serving area that doesn't spill out onto the street. To tackle this challenge, we took inspiration from the iconic Ice Cream Van and designed a horizontal sliding window. By utilising running gear from high quality sliding patio doors and fittings from sliding sash windows, we achieved seamless functionality and preserved the nostalgic charm of the traditional ice cream experience. This unique solution ensures safety and reliability while adding a touch of nostalgia to the kiosk's design.
Built to Last: Located in an exposed coastal area, durability and stabiliy was a crucial factor for this project. To withstand the elements and provide a long service life, we meticulously crafted the kiosk using a durable and stable hardwood. This choice of material not only maintains the visual appeal but also ensures that the joinery will stand the test of time in its challenging coastal environment. It is our aim that every piece we create is built to last.
Optimal Ventilation and Accessibility: No one wants to wait in line for their favorite ice cream on a hot summer day, which is why we paid special attention to ventilation and accessibility. The door into the kiosk is a wooden stable door. Stable doors are a personal favorite of ours. This design solution not only allows for sufficient airflow on scorching days but also ensures that the surrounding street area remains unobstructed. The combination of functionality and aesthetics is what sets our custom joinery projects apart.
Personalised Finish: While most of our work comes with a finish spray coating for maximum durability, we understand the appeal of personalization. For this particular project, the client chose to have the joinery primed, enabling them to paint it themselves. This customization option allows clients to infuse their own style and preferences into the final product. We believe in the power of collaboration and strive to deliver tailored solutions that align with our clients' visions.
Experiencing the Magic: As a testament to our commitment to excellence, I couldn't resist taking my own family to the newly opened Ice Cream Kiosk for a test run. The result was perfect, enjoying an ice cream on the stunning North Devon Coast line and feeling part of a job well done. From the smooth sliding window reminiscent of childhood ice cream vans to the inviting stable door, every detail contributed to a great experience. This project epitomises the limitless possibilities that can be realized through creative thinking and using the skills within our team of joiners.
Conclusion: If you're seeking a custom joinery project that combines innovative design, durability, and functionality, our team could be the ideal choice. The Ice Cream Kiosk project exemplifies our dedication to excellence, safety, and aesthetic appeal. With a track record of successful projects and a passion for creating remarkable joinery from our workshop in Devon. Feel free to call us on 01769 572 134 or visit our contacts page.