Enhancing Devon Homes with Custom-Made Hardwood Stable Doors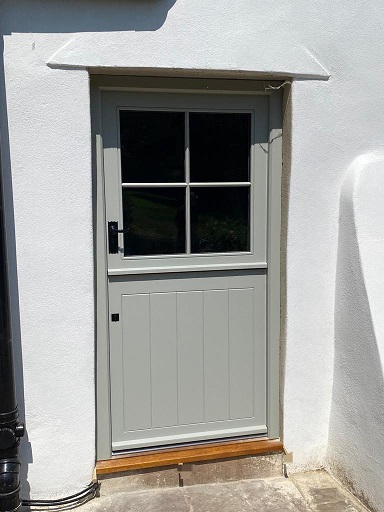 In the heart of Devon, a homeowner sought the ideal stable door solution to complement their property. They discovered our exceptional craftsmanship and quality products on our website, and thus began an inspiring case study of transforming their home with a custom-made hardwood stable door. Join us on this journey as we explore the meticulous process, impeccable features, and the client's satisfaction with our work.
Remote Communication and Estimation: The convenience of modern technology allowed us to initiate a seamless remote conversation with our client. Through exchanging photos and approximate measurements, we were able to provide an accurate estimate tailored to their needs. This pragmatic approach at the initial stages ensures faster response times making sure the proposal is with the client in a timely fashiion.
Site Visit and Color Matching: To ensure every detail was as it should be, we conducted a thorough site visit before the manufacturing process. This visit allowed us to assess the precise requirements and take complete responsibility for the project. Understanding the importance of harmony, we meticulously color-matched the client's existing joinery to guarantee that our in-house factory spray coating seamlessly blended with the surroundings.
Security and Functionality: With security being a paramount concern, we integrated top-notch features into the stable door design. The upper section of the door boasts a robust security sash lock, while the toughened glass double glazed unit ensures both durability and visual appeal. The lower door features an insulated board detail and is secured with a reliable security dead lock. These two locking points combine to create an incredibly secure and sturdy stable door, offering peace of mind to the homeowners.
Weather Resilience: Our team is dedicated to creating stable doors that can withstand the elements. Through continual improvement, we have developed an arrangement of seals that provide exceptional weather resistance. These seals are carefully placed within the frame and the joint for the stable doors, ensuring optimal insulation, energy efficiency, and protection against harsh weather conditions.
Craftsmanship and Quality Materials: At our company, we prioritize the use of premium materials and traditional craftsmanship techniques. Unlike doors with paper-thin veneers over cheap core material, our stable doors are built with tried and tested mortice and tenon joints and solid wood. This ensures their longevity and durability, making them a worthwhile investment for any homeowner seeking lasting quality.
Client Satisfaction: We take pride in our work and the satisfaction of our clients is our ultimate reward. After completing the installation, we reached out to the homeowners to ensure everything was up to their expectations. Delighted with the results, they shared their enthusiasm for the door and expressed their anticipation for ordering a front door as well. Their kind words affirmed our commitment to excellence and motivated us to continue delivering outstanding products and services.
""Really pleased with the guys fitting the door, the paint work looks lovely and it's such and improvement over the old door. We look forward to ordering the front door and we really appreciate the call."
 Mr & Mrs S - Mid Devon
Conclusion: If you're seeking a custom-made stable door that exemplifies craftsmanship, security, and weather resilience, look no further. Our recent case study showcases our dedication to providing homeowners in Devon with tailored solutions that meet their expectations. To transform your home with a premium stable door, please contact us at 01769 572 134 or visit our contacts page. Making high quality wood doors in Devon is one of the joinery projects we enjoy the most and we'd love to talk to you about the benefits of our doors.