Custom Made Oak Doors - Case Study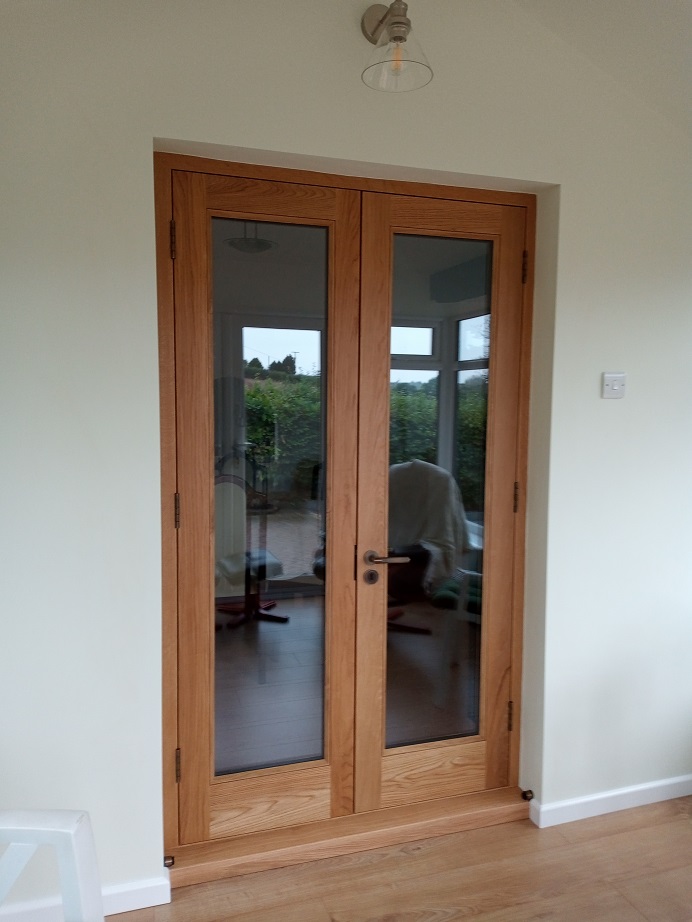 Introduction: When it comes to home improvement projects, custom-made joinery offers a world of possibilities. It allows you to tailor the design and functionality to your specific needs. In this article, we will delve into the creation of a pair of exquisite oak doors, exploring the careful considerations and meticulous craftsmanship that went into their construction. These wooden doors hand made in Devon, although appearing simple, were designed with precision to ensure a favorable outcome. Let's take a closer look at the unique features and thoughtful details that make these custom oak doors a remarkable addition to any home.
Choosing American White Oak: The selection of American White Oak as the primary material for these doors was a deliberate choice. One crucial factor in this decision was the low moisture content of American White Oak. Positioned between a conservatory and a sitting room, these doors would be exposed to temperature high temperatures and low humidity. Conservatories become hot during summer and the sitting room hot warm in the winter. By opting for American White Oak, known for its lower moisture content, the doors are better equipped to withstand such conditions. In contrast, European Oak typically has a higher moisture content which could likely lead to shrinking and movement, making it less suitable for this purpose.
Combining Interior and Exterior Quality: Despite being classified as an internal door, these oak doors were constructed to meet external quality standards for exterior wood doors. The door and frame were meticulously crafted in a traditional manner at our joinery workshop in Devon. Employing the time-honored mortise and tenon construction technique, along with draught-resistant seals and double glazing, ensured the doors possessed the durability and efficiency necessary for external applications. Furthermore, high-security locks were integrated, providing peace of mind without compromising on aesthetics.
Precision in Design: To achieve a seamless integration with the surrounding space, the custom oak doors were designed with narrower clearance joints, reminiscent of interior doors. This attention to detail allowed for a cohesive and visually appealing transition between the conservatory and the sitting room. The disparity in floor levels presented a significant challenge, but the skilled craftsmen were able to accommodate this by precisely sizing the cill. The result was a flawless union between the two areas, both in terms of functionality and aesthetics.
High Performance and Practicality: Given the unheated nature of the conservatory, modern high-performance 24mm double glazed units with toughened glass were incorporated into the doors. This choice ensured optimal thermal insulation while allowing natural light to flood the space. The incorporation of double glazing further enhanced the doors' ability to minimize external noise transmission, creating a tranquil environment within the home.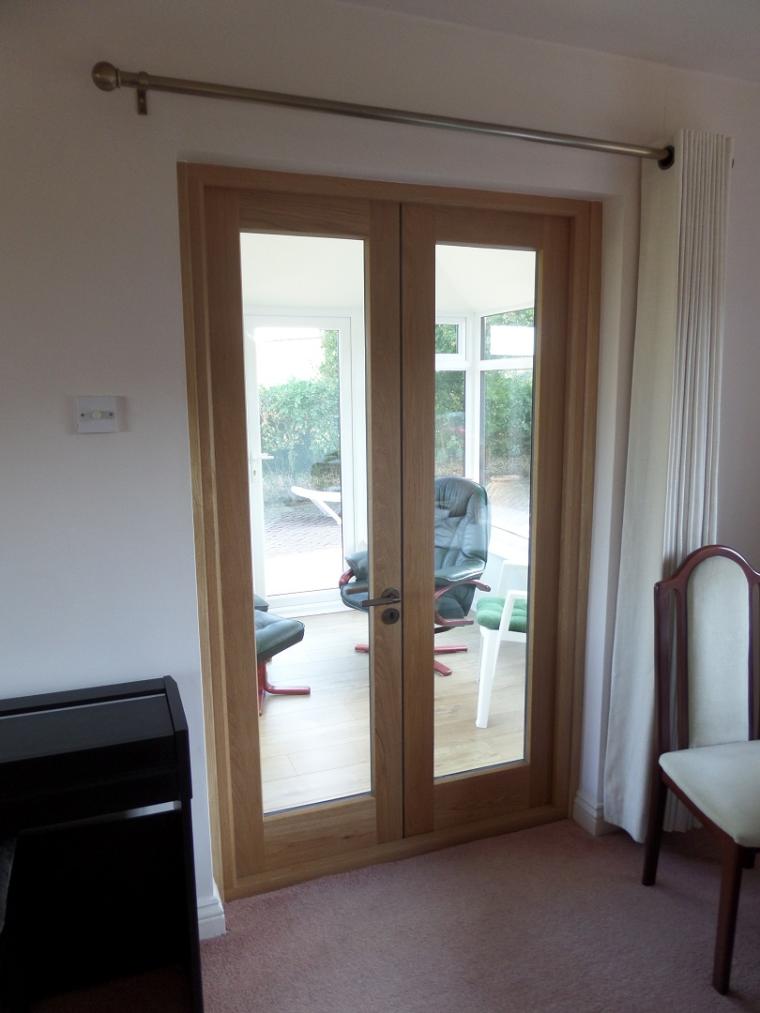 Client Collaboration: In this particular project, the client opted to apply their own finish to the oak doors, aligning them with the appearance of their other standardsized, store-bought interior doors. Although our joinery workshop typically handles paint or stain coatings, we accommodated the client's preference, ensuring complete satisfaction with the final result. While we installed the door frame, the client took responsibility for the finishing touches, a process we refer to as a "Rip and Fix" approach, distinct from our standard "Rip, Fix, and Make Good" service.
Client Feedback: 
"Dear Graham
I am hijacking I's email account to send you some photos, as promised, now that all the filling/painting/etc in the conservatory has been completed.
We are thrilled to bits with our doors! Please give our thanks to Will, Lewis and Dan for all their work over the summer.
With best wishes
E & I"
Conclusion: The creation of these custom-made oak doors exemplifies the beauty of tailored joinery. From the careful selection of American White Oak for its low moisture content to the seamless integration between spaces, every detail was considered to ensure an exceptional outcome. The combination of traditional craftsmanship, high-performance features, and collaborative effort with the client resulted in a remarkable addition to the home. These doors not only exude elegance but also provide lasting functionality, promising years of aesthetic pleasure and enhanced living experiences.