Is Abodo Wood The Best Wood for Windows and Doors?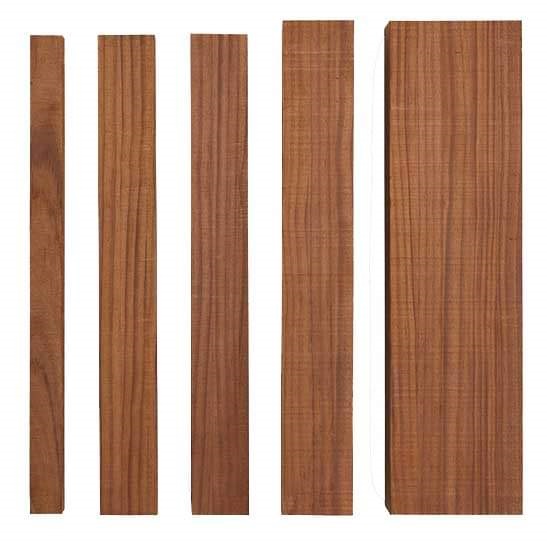 Softwood or what many people call pine, which in most cases means European Redwood, is an "appropriate" choice for wooden windows and doors but we don't use it. Some still do be it must be treated with preservative, because in our experience it's not proven to be durable. Some people mistakenly believe that if they use "engineered" versions of softwood the wooden windows and doors will be more durable. Nothing could be further from the truth. "Engineering" may make the wood more stable but that's it. European Redwood is Class 4 for Durability. That's not great. If you fail to maintain the joinery you'll soon experience problems.
Red Grandis is a timber we've been offering to customers who are aware of the conservation status of Sapele and Idigbo. It's plantation grown in South America and like Sapele and Idigbo, Red Grandis is Class 3 for Durability. The only issue we've found is it comes to the UK a bit too dry. This makes it more prone to moisture movement. However it is viable and we've not suffered any horror stories with it. 
Accoya is the Rolls Royce choice. It's Class 1 for Durability which is in excess of 25 years. Combined with proper coatings and maintenance, this makes for a very durable solution. It's super stable and machines beautifully. But just like a Rolls Royce, it's very expensive. So much so it can be out of reach for many clients.
Enter Abodo Wood. As it happens both Accoya and Abodo start life as the same tree. Radiata Pine to be precise, which is plantation grown in New Zealand. While Accoya goes through a process of acetylation. Yeah, what's acetylation? Think pickling the wood! Instead, Abodo wood is modified thermally. Abodo is also Class 1 for Durabity. Hand on heart, I don't think Abodo is as durable as Accoya, but let's be frank even if it's Class 2, that's 15 to 25 years of durability and in excess of Red Grandis and in the same bracket as European Oak. The real win here is at the moment, Abodo is nearly half the price of Accoya! So if your serious about environmental issues, you want a really stable and durable timber but you still want to keep cost under control Abodo should be top of your list.