Bespoke Conservatory Project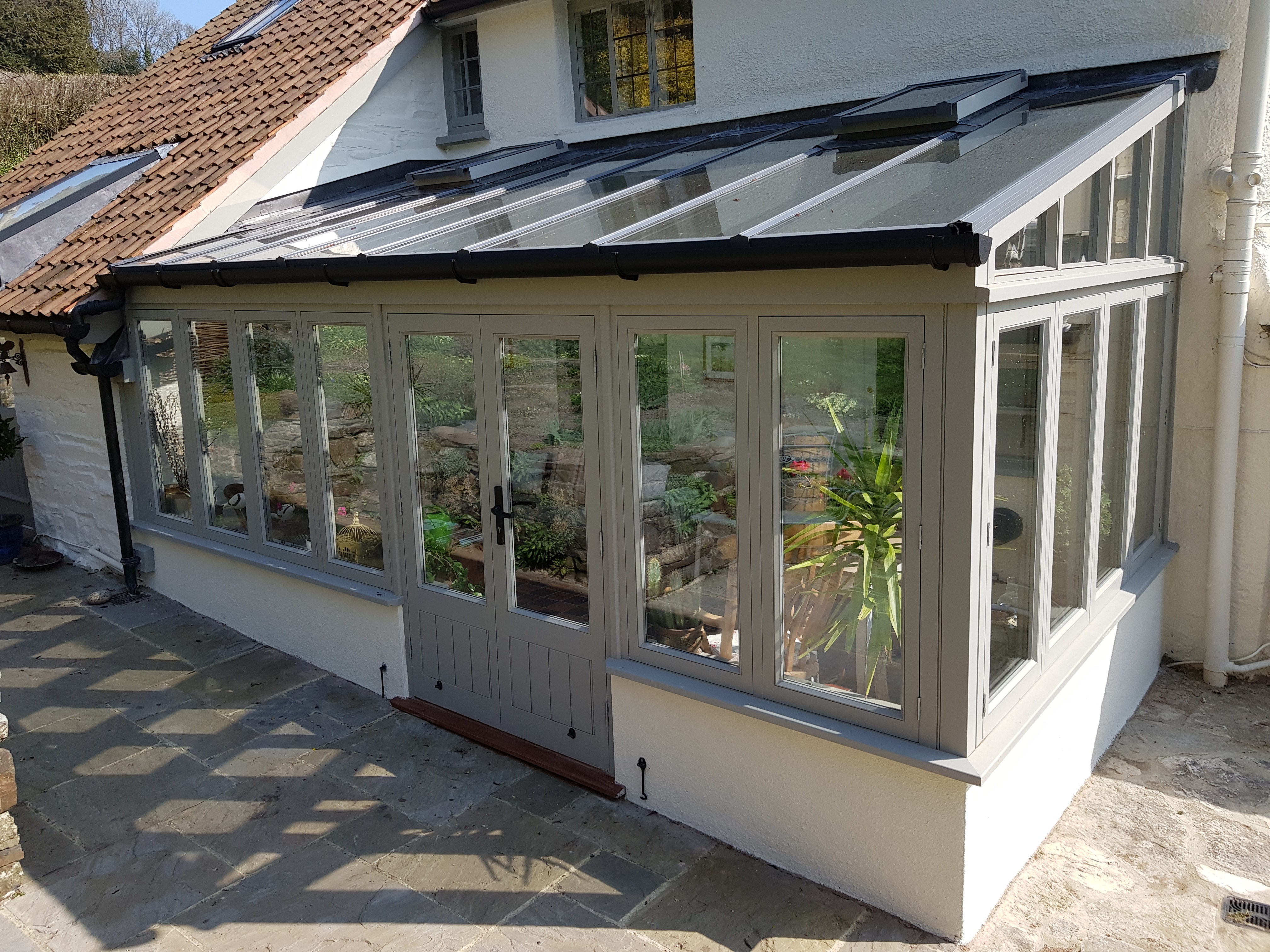 It was very pleasing to go and look at a project we completed for a client during late 2018. The photos show and good looking "lean too" style conservatory made from durable hardwood with a painted finish. This conservatory replaced an existing structure. The client appointed a local builder to construct a new base to make better use of the space available. Making a quick visit during 2019 I thought it would be good to do a quick review of the process.
I wish I had taken some "work in progress" photos, but at times this project was a head scratcher for me and I was to focused on getting the job done. The Lean Too style is normally a pretty easy style to undertake. However, one of the issues on this project can be seen above below. I had a lead flashing transitioning into a lead gutter due to the meeting of the roofs. I'm not a lead worker but thankfully we work with a specialist subcontractor who is excellent. This is where extra days get added to a project as they can only be completed on site. We made the timber work to support the lead, Marc our lead worker comes in and does his expert lead work.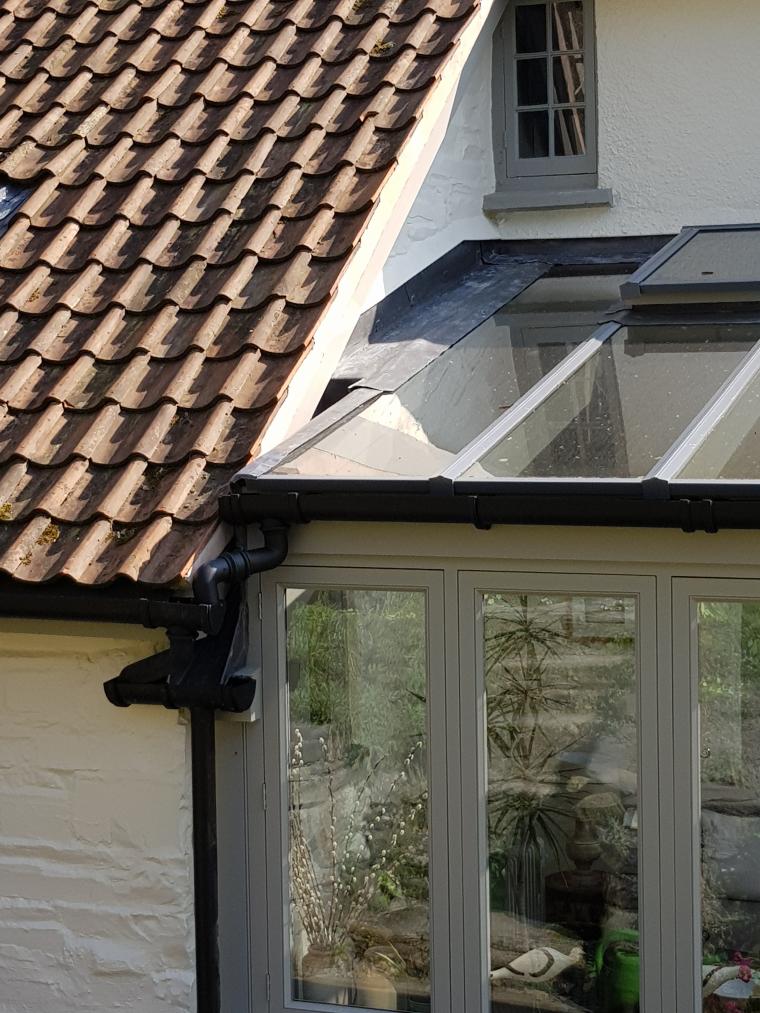 In what seems a very odd way to do a job I chose to cut the roof on first! I made studwork frames to sit on the front walls that were the same size as the eventual windows. This allowed me to complete the dirty work of setting the wall plate into the cob wall and make it parallel. And it was dirty. Combined with wet weather and I wish I was back at the workshop! Cutting a new flashing could also be done, basicly all the work that could damage the joinery was completed. The joinery was then bought to site and installed.
An aspect we took time to add was to have all the panes of glass on both the windows and doors the same. This gives a nice rythm and balance. As you'd expect the glass on the project is all double glazed, the roof has self cleaning glass too. I will say that the term "self cleaning" does not sit too comfortably with me. Bottom line, you'll still need to clean the glass! The glass is an area where we had an issue too. I'm taking the unusual approach of sharing probelms but we ended up with a two week delay. Normally I'd like to order glass before we fit, but becasue I cut the roof on site I chose to wait until I had done so before ordering. Nothing I could do but I felt bad for the client. Given the circumstances they were very understanding. But it's a warning. When working on custom projects delays can spring on you from nowhere.
The windows used were our flush casement style of window which complimented the existing windows on site very well. The doors open out to maximise space on the inside of the conservatory and are fitted with multi-point locks.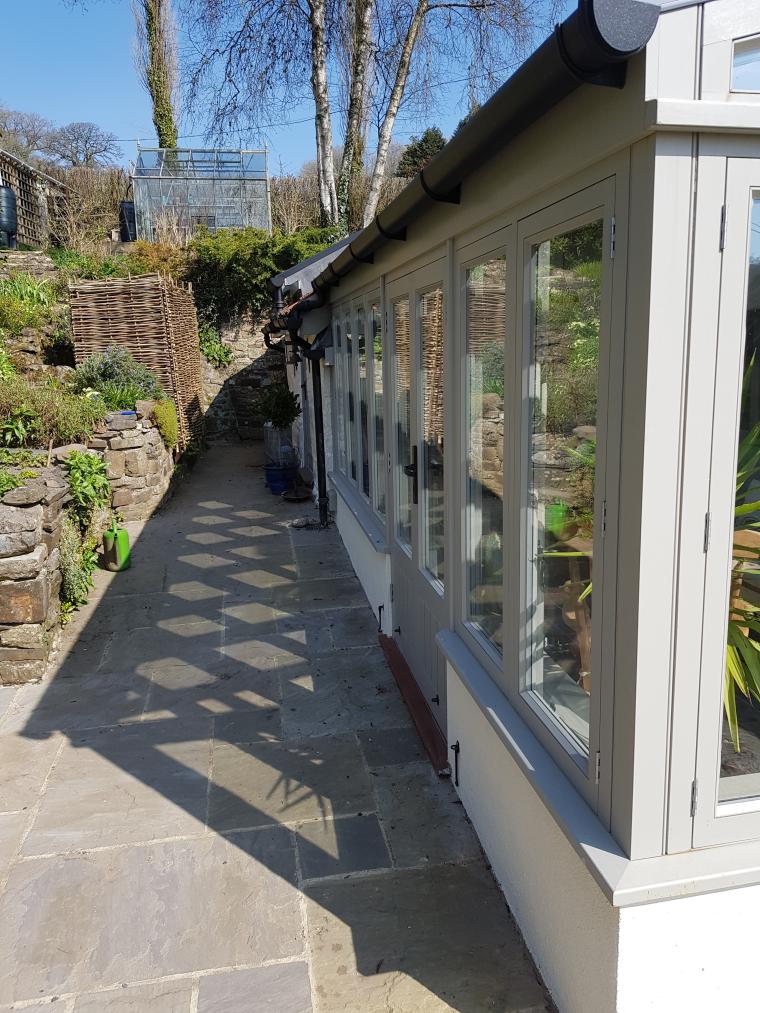 There were a few other bumps during construction, although nothing too major. The most important thing is that is works well now it's finished and it looks good too. We don't do many conservatories as we mainly work within about 20 miles of South Molton. If you are considering a new conservatory in the North Devon area, please give us a call and we'd be happy to discuss you'r project.