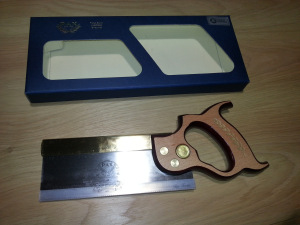 Sadly my dovetails are still not finished (although you will see from the photos they do exist)! There are 56 of them though and all hand cut. If only my lunch breaks were longer….
However perhaps I could share with you my experience of my new dovetail saw. I gave this purchase some careful thought. Part of me wanted to go for a vintage saw, however I was put off by possibly buying blind from the internet with all the risks of wonky handles and more wear and tear than would be acceptable. This meant an evening of searching on line. After searching through various sites I found The World Of Woodworking . I was pleased to find a wide range of British made products. I reviewed the various saw brands they had to offer and settled on the PAX range of saws. I was sorely tempted by the Elm Handled version but I could not justify the cost. Instead I went for the Beech handled option. My order was placed and the saw arrived very promptly. It was well packaged and came in a nice presentation box. The blade was protected with a plastic skid and the metal had a protective coating.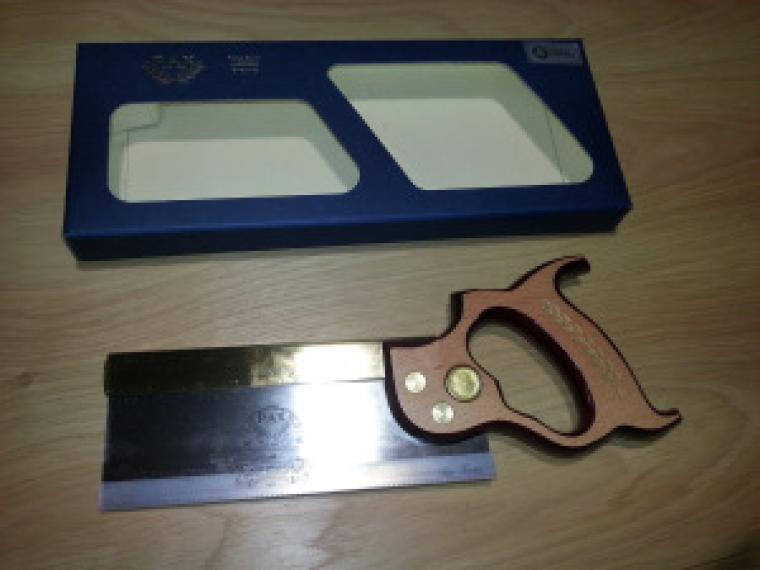 As I mentioned, I was tempted by the Elm handled version but I must confess I am really pleased I didn't. The photo on the website does not do the saw justice. I was concerned before receiving the saw that the handle would be a bit crass. Quite the contrary the red, beech and gold leaf details on the handle are a joy to behold. The saw is light and well balanced and fits nicely in the hand.
I was eager to try the saw and with dovetails marked out I started the process of ripping down the tails. I must say it performed brilliantly out of the box cutting quick and straight. The only excuse to for poor fitting joints will be my setting out! The protective coating was soon removed when in use so I have been treating the metal with a small drop of three in one oil and some paper towel. This has not only protected the saw it has polished up the brass back to a mirror finish.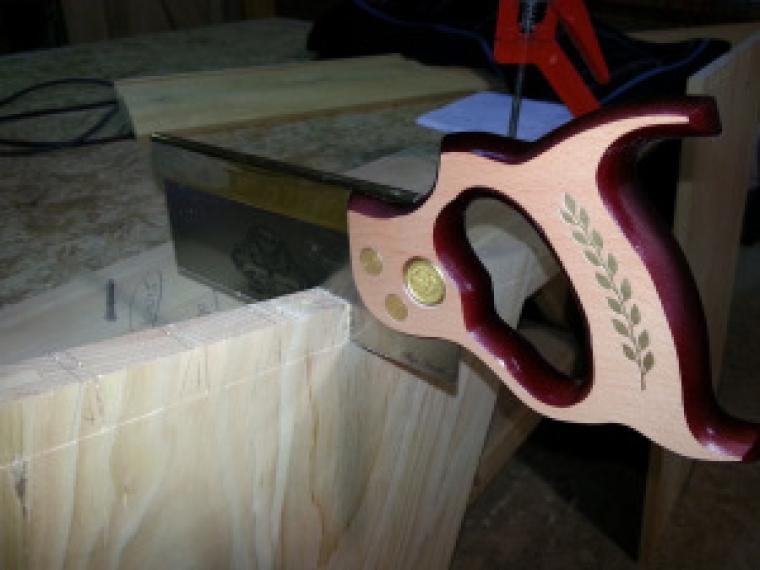 Overall I am very pleased with the purchase and would recommend the saw to anyone. Take a look at The World Of Woodworking website for the full range of saws and tools they offer.