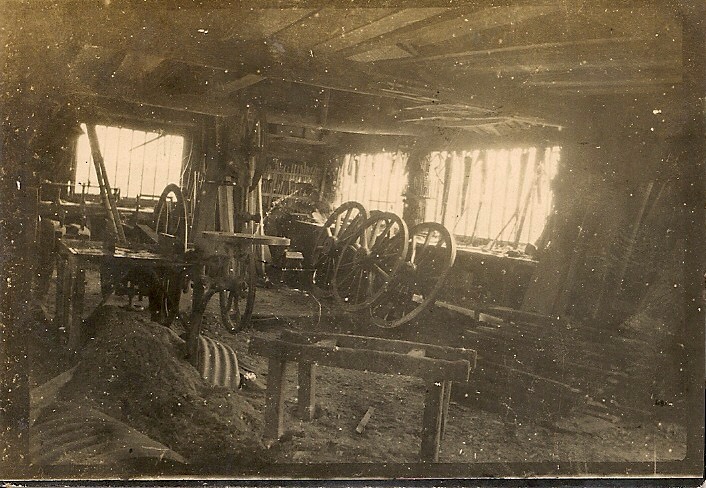 Firstly a big thank you to some clients of ours who were kind enough to let me use this image. It's existence came up in a chance conversation and once I knew about the photo I could not wait to see it. Why am I so fussed about a photo of an old Wheelwright's Workshop only a few short miles from our own workshop? I'll start with the obvious. My Great Grandfather (G S Haydon) was trained as a Wheelwright and finished his indentured apprenticeship at the time this photo was taken, thought to be around 1915. It's always been rather fun to imagine just what type of environment a typical rural Wheelwright would of worked in. Also our two former workshops 1926 - 1931 & 1931 - 2006 in the first instance were Wheelwright workshops with the 31 - 06 becoming a Joinery workshop overtime.
What can I tell you about the photo? I'm not a historian but I'm practical and I have a half reasonable knowledge so here's what I think. The date of 1915 seem a fair estimate. Even in this rural setting the goods of the industrial revolution are present in the form of circular saw, band saw and lathe. Within our workshop these machines were run with a donkey engine (not a real donkey, slang for a stationary engine) and flat belts. Depending on how you frame the world around you these changes helped remove the burden of incredibly hard work or they removed a skill from the community and put pit sawyers out of work. One thing's for sure you can't stop change! I would speculate that output from this workshop would of changed hugely within the next 15 to 20 years with the need to evolve services offered. The way we negotiated this change was by doing other agricultural work, repairing barn doors, putting up barns clad with asbestos sheeting etc along with a move into more focus on Joinery services. Even that change did not last long, agricultural buildings moved quickly into the realms of steel portal frames and a bigger scale no longer suitable for a rural woodworker. That's what the modern world does, no matter if you're in sleepy Devon or in a big city change is not far away.
This workshop, like ours had a perimeter bench fitted beneath windows. Ours were fixed to the wall with a tool well and were not for moving. The scale of the Wheelwright's work means things would be typically be build in front of the bench with the bench used for making components with most projects put together on trestles or built up from the ground. I hazard a guess the bench in the photos was the same. It's a quick and sturdy way to make a bench. The window position is obvious, in a pre electric rural world daylight was king. We had an oil lamp in the old workshop but nothing beats sunshine.
There seems to be a ladder in the photo behind the circular saw and in front of the lathe leading up to the loft space. If these chaps were anything like us the need to hoard was hard to fight. If there was a bit spare you'd be loathed to throw it out knowing the effort that had been imparted in it's creation. And you can bet you're life if you throw it, you'll need it next week! I'd speculate also that the ladder was made by the Wheelwright. We certainly made ladders and wheelbarrows and the knowledge that ladder rungs, in the same way as wheel spokes, should be from split stock and not sawn was something I remember my Dad mentioning.
I can't be certain about other things, looks to me like there is a metal "American" brace hanging in the window and with the machines present this was a forward looking woodworker who was happy to invest to keep the service they offered competitive. On the less analytical side of things I love the authentic feel. The photo is not staged like 90% of woodworking images, the Wheelwright could be having lunch outside while the photo was taken. This is the biggest victory of this image, it's reality. It's not a Victorian painting of a country scene depicting contrived rural bliss. It's not rose tinted spectacles and a craving for simpler times where only hand tools were used, you'd need to head to the 18th century for that. There is no sales pitch with an option to buy the T shirt and DVD. It's shows the danger of exposed blades, dust and an environment that would take only a hint of flame to be ravaged by fire. It shows the last moments of a trade that was to become largely moribund. Most importantly it give me the closest thing to seeing George's possible environment as an apprentice and perhaps hints of our workshop in those early days. It makes me respect the work of my Great Granddad all the more. That's him below in a photo from the early 1950's. So my thanks again for this image, if anyone else has photos like this I'd truly love to see them.