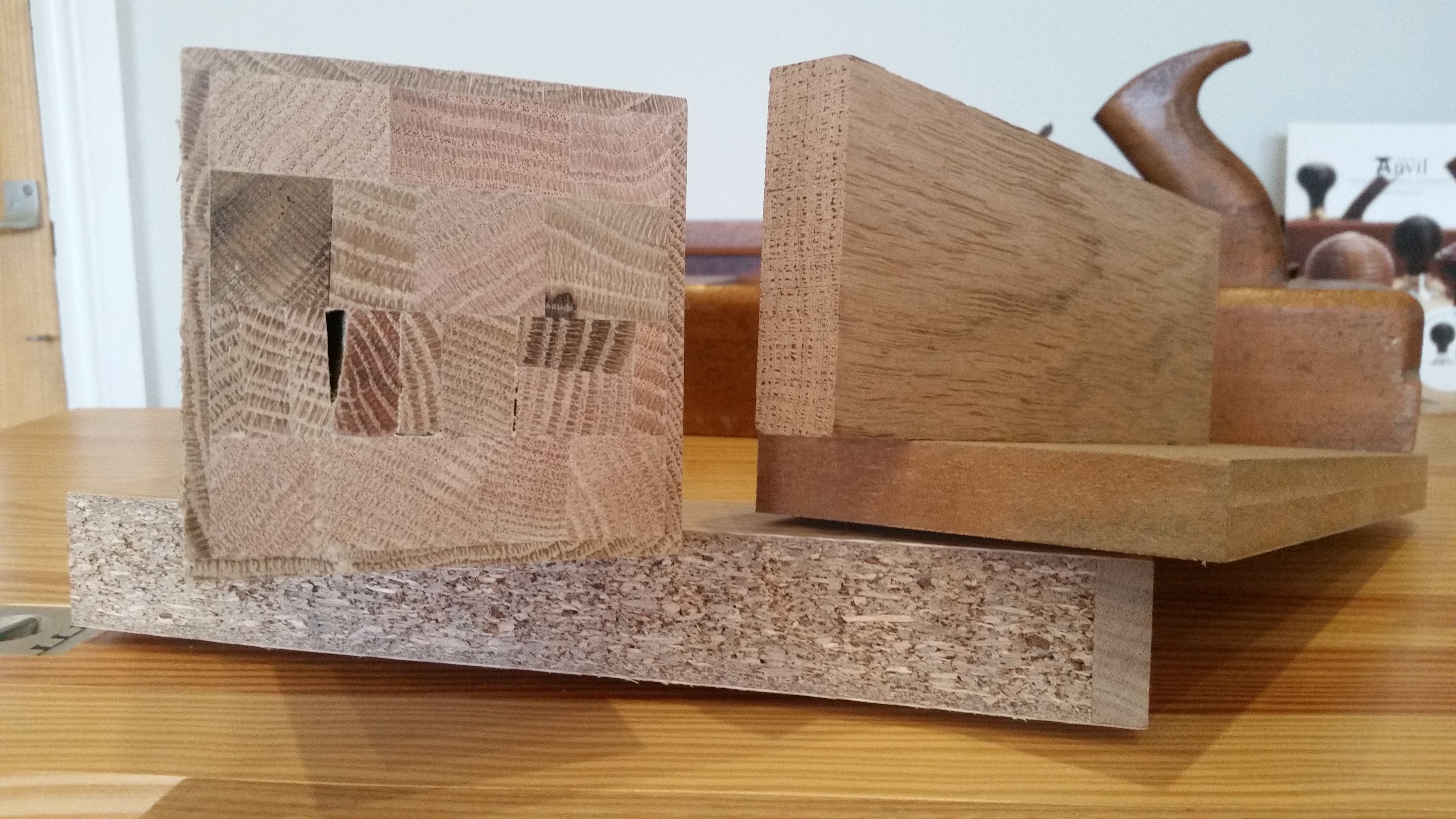 Nearly all timbers can be used as a solid wood or alternatively veneered onto a stable and cheaper core material. Typically chipboard, MDF, Plywood and cheaper species of timber are used as the core. In most applications the veneered products will be cheaper and more likely to remain stable. However there's more to it than that. Looking at the examples above and a dash of history I'll share my experience of the different materials.
Veneering has got itself a bad name recent times, so much so that selling something as a "solid wood" infers the veneered product is always a lesser option. As with most things, the key is making an informed choice. Historically, veneering is something that has been more to do with furniture than joinery. And during that history and into the present day there have been some remarkable pieces of work. A favorite of mine is the oyster veneered chests of drawers that were made (example here) during the 17th and 18th centrury. But as mentioned I can't think of much joinery that would be veneered, most would be solid or would have a paint effect that would emulate more expensive woods.
Moving into our present day, veneering has made a big impact on internal joinery works. Flooring, doors, sheet materials and stair components are now available with veneers.
Solid Oak. This is a great choice and proven over hundreds of years. It works readily with all tools, glues well and takes a finish readily. When quarter sawn it has dramatic figure. It can be repaired easily and matures well with age. However, it is expensive and as I sit here writing this article, I can reflect over the last 12 months just how expensive Oak has become. This means it's out of the reach of some clients who wish to use it. It can also move a bit more than modern veneered products. For me the movement is not an issue. I personally feel that if you choose to use wood, you accept it for what it is, a natural product that will change depending on it's surroundings. If a door twists things can normally be adjusted on the door stop so that things work well.
When we are making doors, stairs, etc, solid Oak is our primary choice as it suits our processes best. Many of our projects are also in older houses where the ability to work and shape from the solid is essential. However we do combine them with vennered products if that works well.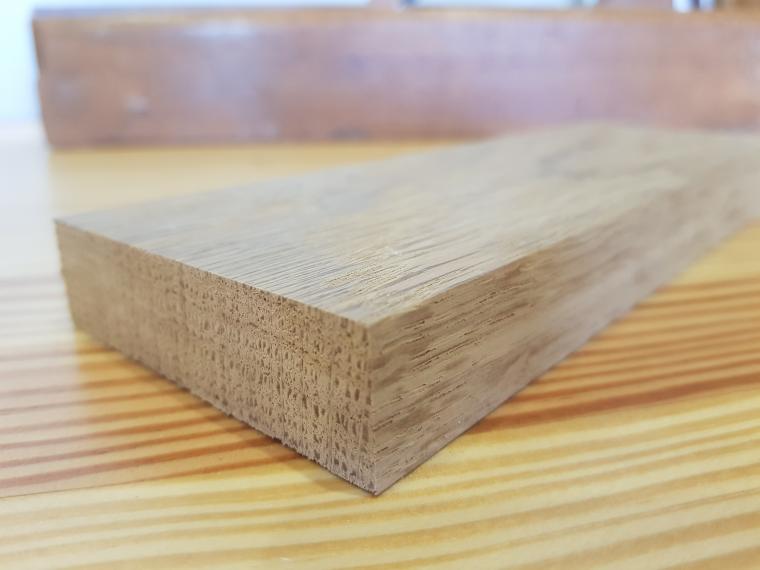 Solid or Vennered?  That is the question! When looking at the newel post in the picture below you'll see both statements can be true. It is a solid piece of oak, but not from one plank. It does have a veneer, but the veneer is really nice and thick, at least a good 5mm thick. Some people might also choose to use the the term "engineered". As an aside I do find the term "engineered" makes me feel a touch sick. Maybe it's just because I feel insecure that it infers we needed engineers to solve our woodworking problems, but honestly I think it just a veneer. Having said that "engineered" seems to serve the market well so who am I to judge.
Back on topic, I think this is a superb idea. It's what good quality venners should be for joinery applications. It's as heavy and robust as Oak from one plank and less likley to have defect and remain more stable too. The only issue with it is we can't cut deeply into the wood otherwise it would reveal the core. Still not cheap but a very good product.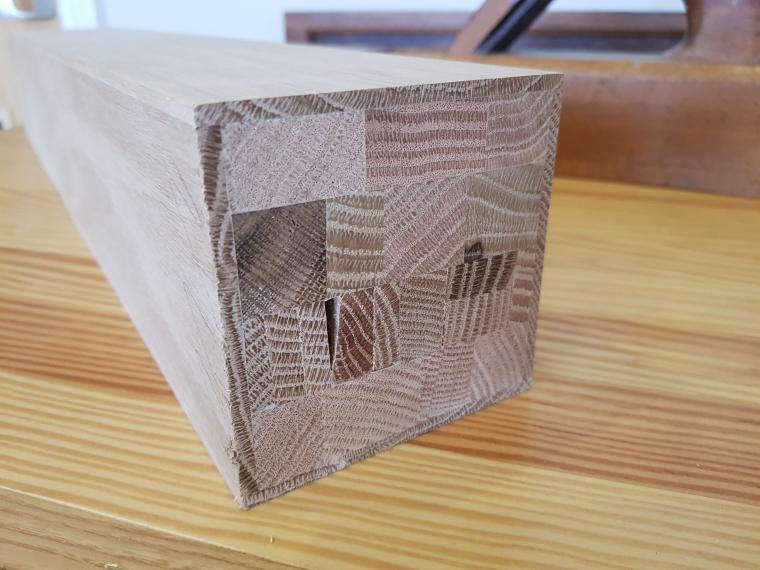 Now it's the typical modern veneer. This image shows a section through an interior door that has a core of chipboard and some thin veneers on the face and a liping on the edge. On these doors the lipping is not oak, just a timber that looks simillar. These doors are sold as "Oak Doors" which I think is a bit cheeky. They are chipboard doors with and oak veneer. I don't have a problem with this way of making doors, in fact there is a strong argument for making standard products this way. The veneers are thin, perhaps 0.5mm to 1.0mm at the most. This approach makes the door low in cost and relatively stable. Repairing can be an issue and if edges or faces are struck there can be damage that is near impossible to repair.
We can't make doors using these methods but we can trim and resize the doors within certain perameters. We also install these doors when clients choose to have them.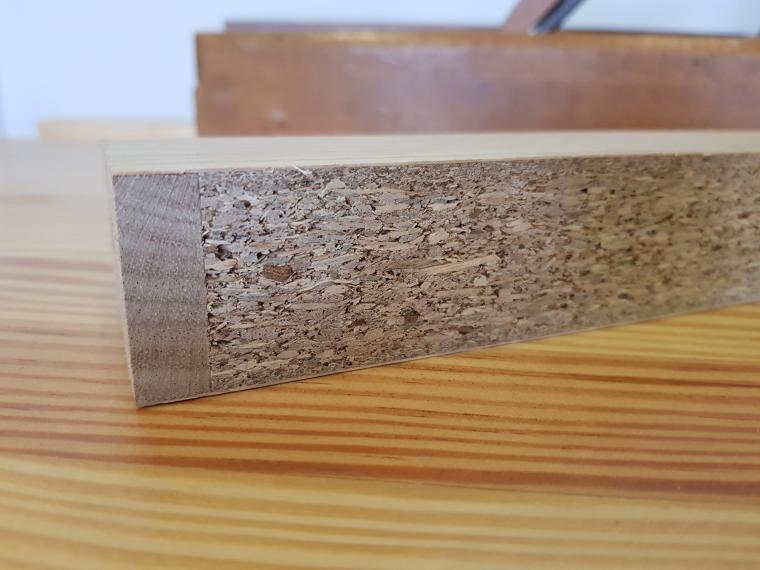 Then we have our sheet goods. These typically have the thinest veneer, no more than 0.5mm. Even with that very thin veneer they can still be very usefull, you just have to be careful where you use them. Areas of high wear or humidity are out. They can work very well for making the inside of a built in wardrobe a door panel and another good area is the back of a fitted bookcase where using solid timber would make it prohibitively expensive.
We use these sheet products when appropriate and they work very well, the range of thicknesses is also helpful.
I hope this quick overview of the different types of "Oak" you might choose for you joinery projecthas been helpful. As I said, each has its place, it's just about making the right choice to suit your situation.