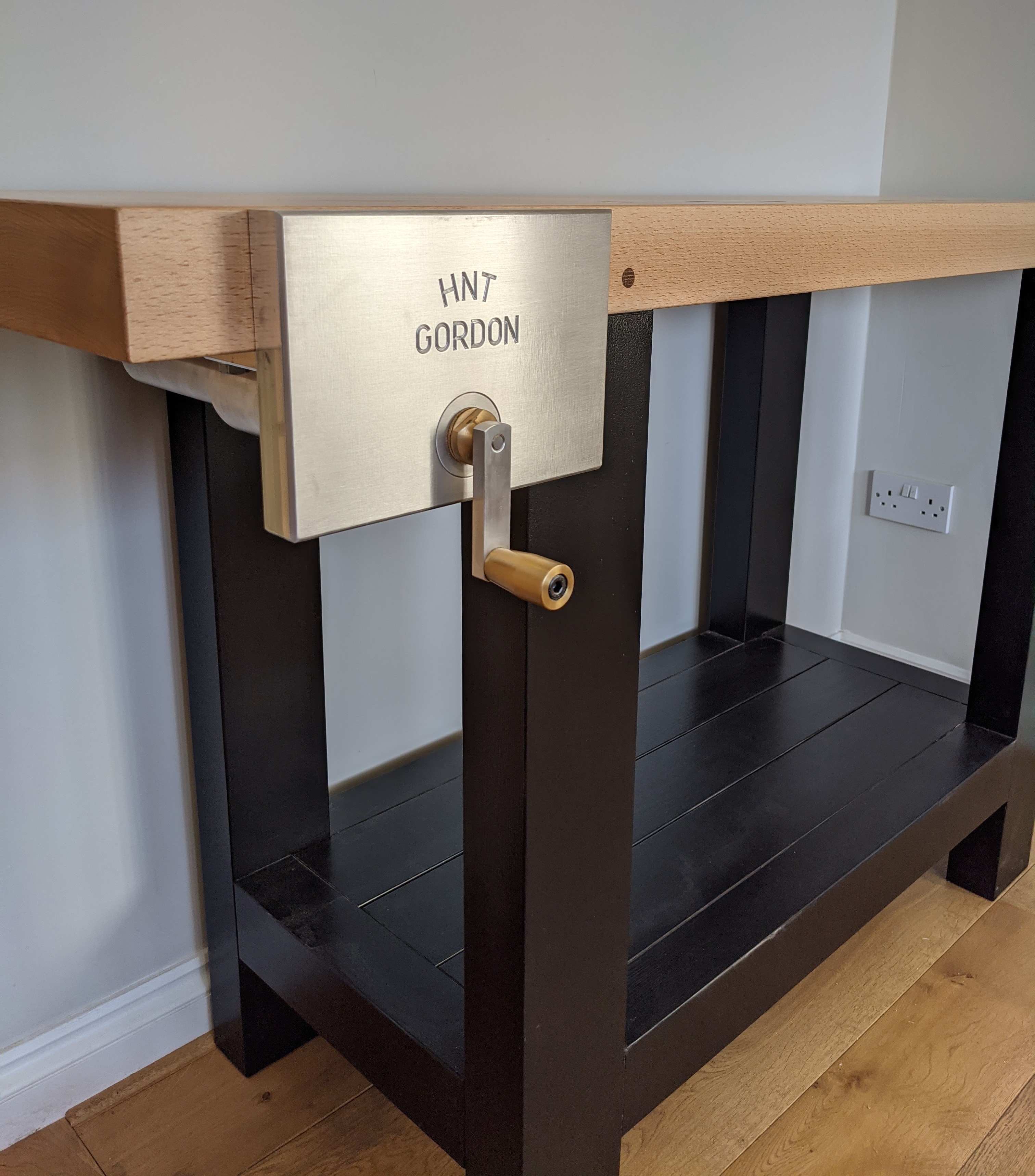 Something I've wanted to offer for a while are traditional style workbenches for woodworkers who want to get straight to the woodworking. Making your own workbench is to be encouraged, but for some people it's not always that simple. Having the option to buy a ready made item can be really helpful. I want to explore that soon in another blog post, but for now I'm going to focus on this current workbench we have for sale.
This is a small bench, ideally suited as a joinery bench or a bench to suit a compact workspace. It measures 1500mm (59") long x 485mm (19 1/4") wide x 910mm (36") tall. The top is made from two pieces of solid beech edge joined with loose tennons and finishing 67mm thick. The base is made from European Redwood with all joints in the base being mortice and tennon construction secured with oak drawbore pegs and glue. The same method of joinery is used to secure the framework to the top.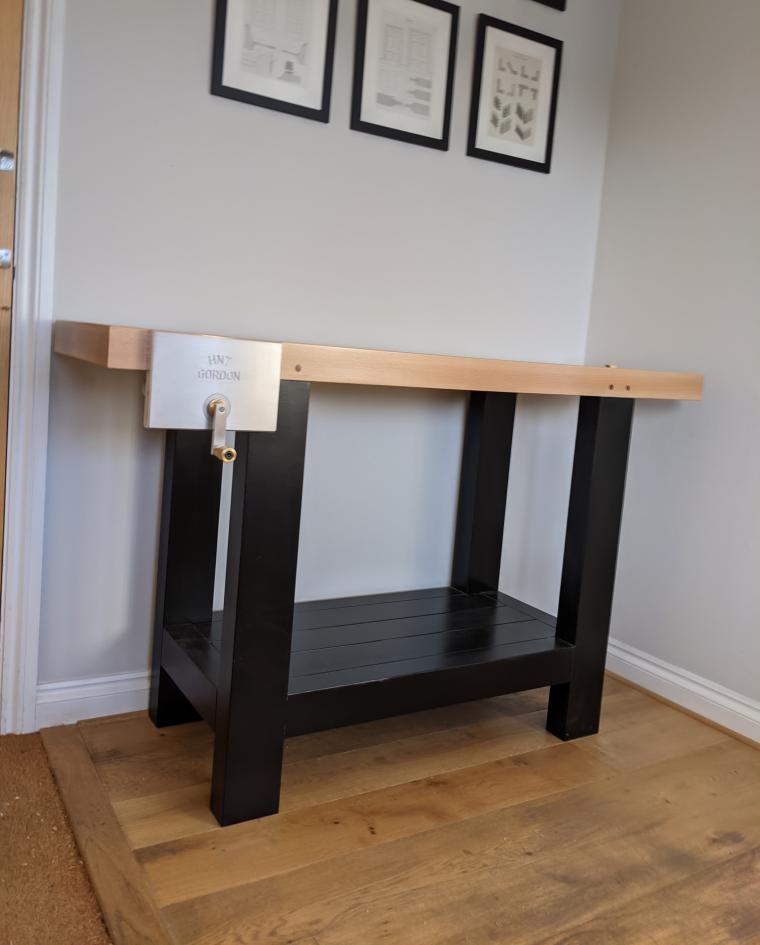 The workbench top is finished with Osmo PolyX Oil and the base is spray coated with an exterior grade Teknos paint in a Matt Black finish.
For workholding we have fitted the HNT Gordon front vice and 100mm tail vice. I was sceptical about this choice, but I am amazed with just how amazingly good this combination has proven to be. Terry's work has created a vice with virtually no detectable twisting of the jaws and no slipping. We have been able to secure a piece of wood in the front Vice and lift the bench of the ground. For neat and precise work HNT Gordon have made something truly exceptional. Some, me included, might be put off by the very modern look, however I am a complete convert and I would be proud to own the HNT Gordon front vice.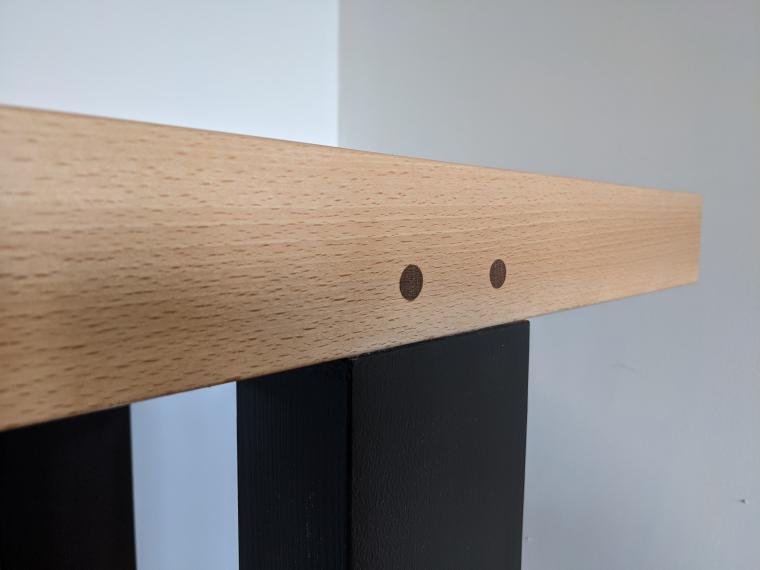 As with the HNT Gordon front vice, I'm impressed with the tail vice. I will go further and say I am totally bowled over. The images you find online don't do this vice justice. It's not only the quality and attention to detail but it's the way it's designed to be fitted into a bench top. It's not as complex to set up or install as some of the other options and that is a real strength. The brass dogs that can be purchased are thoughtfully designed to grab onto the wood with a gently concave surface ensuring the outer edges really bite into the wood. I don't work with a tail vice, but if I did need one I would definitely go with the HNT Gordon version based on my experience.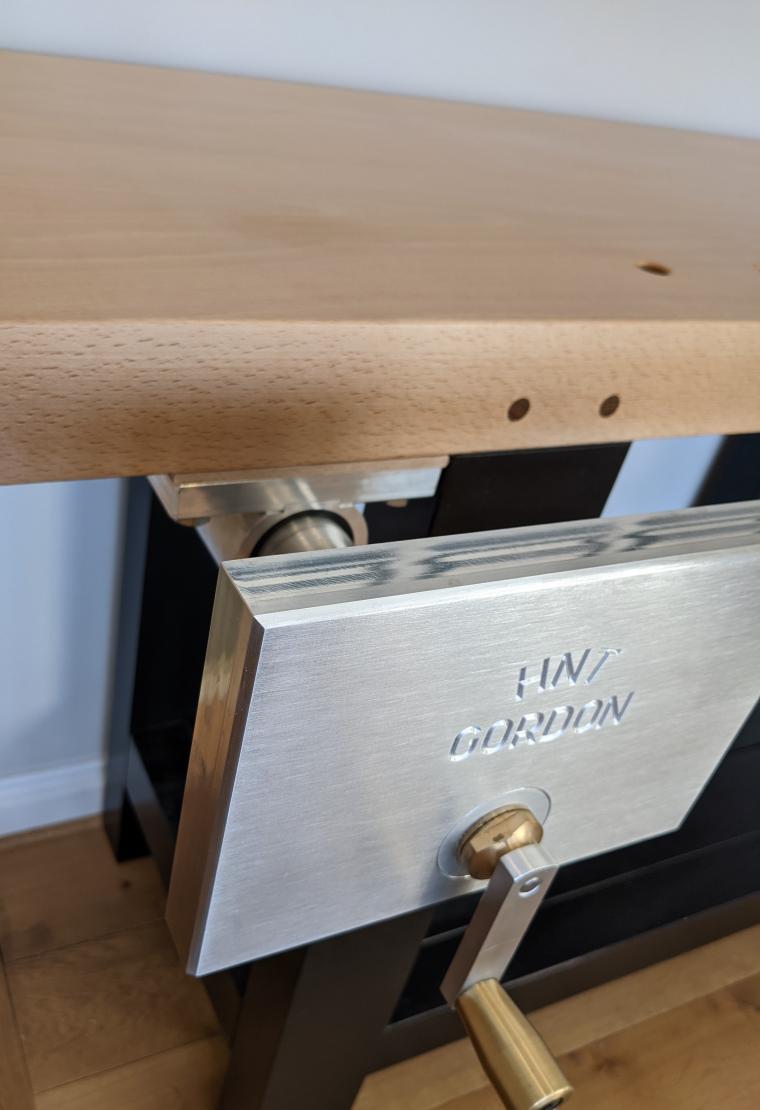 To learn some more about the HNT Gordon Front Vice, take a look at the video to hear from the man himself. I don't think there is an "official video" about the tail vice, but there is content out there should you want to investigate further along with the products on the Workshop Heaven website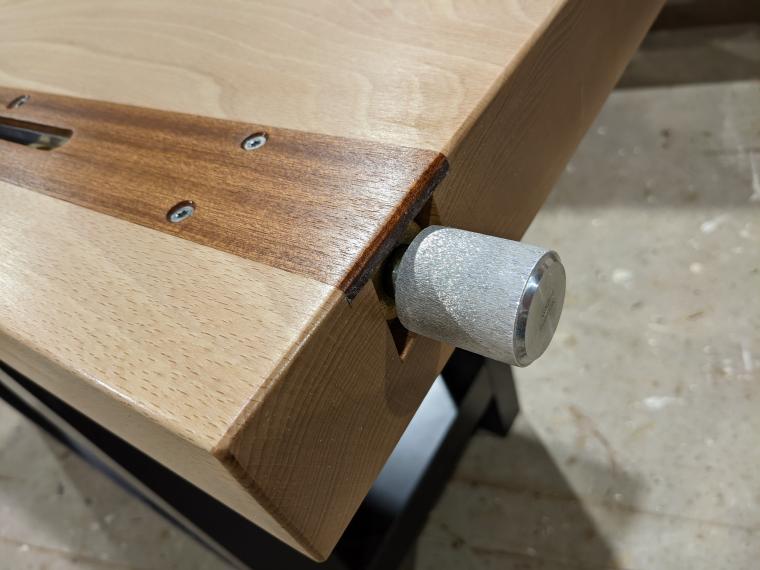 I've learned a lot about getting the best from the design and the products involved. But as with the other two workbenches I do want to sell it and have someone else enjoy it. As this this a prototype it is not what I feel is a first quality product so please be aware that;
The finishes such as paint or the Osmo oil on the top are not A1.
If you were to remove the tail vice and remove it you would find a blemish on one side where a screw from the timber cover was located too close to the vice. It is a cosmetic defect but it is there.
The beech top has some small splits on the underside. There are also some small checks on the end grain of the beech top. These don't affect performance but we would not consider that appropriate for a full price bench.
As this is a prototype and in my view a seconds item it has no warranty or guarantee, once you've bought it it's yours!
With that out of the way I would trust that this bench should provide a lifetime of use. You are welcome to come and view the bench by appointment. Although, as this is non essential retail from Thursday we will have to postpone visits to our workshop for the purpose of retail. I am happy to create a video if someone would like to view it remotely.
We are able to deliver the workbench anywhere within the UK (depending on current restrictions and risk assessment due to Covid 19), prices for delivery POA. You would also be very welcome to collect the workbench in person, again, subject to any restrictions due to Covid 19.
Total Price for workbench shown here £1495.00 Inclusive of 20% VAT.
Bearing in mind the HNT Gordon Vices are £635 we think this is fair. I might listen to a very close offer but we sold our other prototype without advertising so I'm in no rush.
Give us a call to discuss on 01769 572 134